Bobcat: You Are in (Remote) Control
Quiz time!
Question:
What do you do when you need outdoor footage in January without snow?
Answer:
You Go South, Young Man! Like… to Texas!
Threefold was tasked with the entirety of a product-reveal video, and executed all aspects of the production from concept to delivery. These are projects where we shine!
We received the call from Bobcat in January with a request to develop an idea for a video that would debut at their company-wide dealer meeting in February. Immediately, we brainstormed with our team.
The next thing we knew, our crew was on a plane from Bismarck to a warmer climate. In Dallas, we captured footage of their (literally) ground-breaking technology.
Visionary projects. Unique advertisements.
Bobcat Company invented the compact equipment industry 60 years ago, and we didn't become the global leader in compact equipment by taking a break when we were done. Our next innovation puts you in control… from your iPhone.    – Bobcat

This technology creates great potential for customers, and we wanted to do the new feature justice in promoting it.
We wanted to create instant recognition of what the product does, and how it works—so we broke it into two distinct sections. Dividing the ad this way allowed us to show progression of how far technology has come.
The ad had a fast turnaround time, and we wanted to keep the concept simple. The idea was to create a unique transition between playing an old video game, and using the new remote control app.
The Past
Our opening scene shows a young boy playing a video game on an old console. We recreated a room–right here in Bismarck–that would be familiar in the late 1980s/early 1990s. Since our crew had already captured footage from Texas, we matched our older actor to a young boy who could pass as the same person, but 20-30 years younger.
Our team enjoyed the challenge of getting the lighting just right for that time period. We had an absolute blast during production!
It was especially comical when our young actor asked if the old Super Nintendo in the ad could play Fortnite.
Tweet This
It's not too often you get to play a video game for a commercial. Our 90's boy may look nonchalant on screen, but he would later tell us he felt like a movie star! When we were adjusting scenes and the set, we'd switch the game in our console from F-Zero to something else.
It was especially comical when our young actor asked if the old Super Nintendo in the ad could play Fortnite.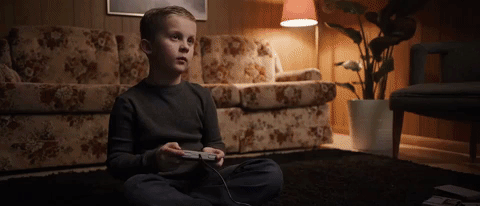 The Present
Our actor, who seamlessly transitioned to an adult, is now using the same gaming concept from ages ago—but this time, it's for real work.
A windy day in Texas led to a variety of shots that touted the new ideas remote control can lead to, such as post-hole digging. Who knows what other great ideas customers will come up with once they get their hands on this?
As the footage from both TX and ND was assembled and edited, we realized the video would lend itself to a strong voiceover to really seal its effectiveness.
We developed and wrote the script, collaborating with a voice over artist to give our video the right touch. We also created the background music track in-house for both the 45 second and 90 second versions.
This was a very unique, creative commercial that we got to film in both North Dakota and Texas. We loved being able to do commercial film production in Texas!
FULLSCREEN
x
---

Stay up to date with all we are doing:
Subscribe to our monthly newsletter:
---
What were your thoughts this? Let us know with this nifty reaction button!